**Full disclosure – I have received payment for writing this blog. I will be wearing a pair of Buffer socks with pride, in exchange for a few words about how and why I use Buffer! A fair swap I feel. And part of my growing SaaS sock collection alongside my MailChimp socks.**
Beginning my Buffer journey
I remember when I first heard about Buffer. I was at an event listening to a talk about social media from someone who worked at Hootsuite. He spoke about social in general, trends and ways to grow your audience. Someone asked him about using Hootsuite and this was what he said:
If you only have one account on each social channel then I would use Buffer instead.
I was quite shocked. Did I just hear someone recommend another solution that felt a lot like it might be their rival?
I was also intrigued. At the time I'd been learning everything I could about Hootsuite and playing around with all their functionality, I hadn't heard of Buffer. What was Buffer? And what did it offer that made people recommend it so highly?
TL:DR – that was the day I became part of the Buffer community. I signed up straight away when I got back from the event and started using Buffer for my own social to start with. It was easy to set up and use, and with their Chrome extension it became part of my social toolkit in no time.
As my business has grown I've used Buffer myself, for clients, set up accounts for clients, spent time in their slack community and even been privileged to be part of their Twitter squad and tweet from their own account.
Buffer Values – at the heart of everything they do
So what makes Buffer different? For me it is the fact that everything they do is grounded in their core values. Once you understand this, it is totally natural that companies who others might think were their rivals would be recommending them. And they start with 'Choose Positivity' – nothing bad in the world ever started with 'Choose Positivity.'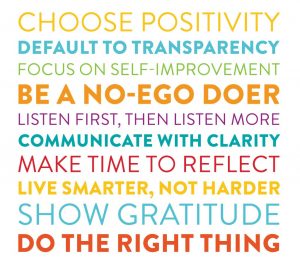 It sounds strange to speak about a company and go straight to their values. And I'm not sure there is any other business I would speak about in these terms.
So why do these values matter? Setting up my business back then, I decided to freelance and to work remotely. It is great and also greatly challenging. In the early days of my business I often struggled with not being sure where to find 'trusted' sources for work and advice, nice people for online watercooler chat, all those things you take for granted when you have the pre-made company environment around you.
The Buffer values helped me cut through all of that. Here was a company that was delivering a great product and growing an awesome community. Knowing the values were there meant I just felt at ease in their community, product and spaces from day one.
Joining the Buffer Community
After I'd set up my account and started to play around with Buffer, I joined in their weekly #bufferchat on Twitter. Following their accounts and joining in the chat I heard about their slack community.
Again, in the early days of my freelancing I was desperate to try out slack and join a community on the platform. Again, being an office of one has its downsides, there was no group to give it a try with. It was the new cool thing and I was keen to try it out.
Enter the Buffer slack community. Or that's when I entered the Buffer slack community! An online slack community (hooray, my wish fulfilled) full of others looking for a community around social media. During my time in the slack community I set up and ran the Buffer Slack Community Bookclub. We came together to discuss a different book each month and one month I even managed to arrange for us to be joined by the author of our chosen book!
So, wait a minute, how do you actually use Buffer?!
Ah yes, the crucial question. I realise this blog has been much more about my relationship with Buffer. So, what does Buffer actually do?!
It is a tool to help you schedule posts to your social media channels. You can have all the social channels you manage in one account and schedule content and posts in advance to help you save time, see your social posting as a whole, plan campaigns and more. With Buffer Reply (formerly Respond) as part of the toolkit now too, you can also manage Customer Service and Community Engagement across all your accounts.
If you're starting out with Buffer then you might like to look at it like this.
For my clients I suggest they start by looking at their social a week in advance. How often do you currently post, how often would you like to post, what is coming up that you want to talk about?
First, set your schedule in Buffer. You can customise posting days and times to make sure you are reaching our audience when they are around to hear from you.
Next, think about content. With the Buffer Chrome extension, I encourage clients to just click on it whenever they are reading an industry article or something in their niche that catches their eye. Straight away it comes up, you can choose what channels to share it to, write a quick update about why you like it and boom! Added to your queue in your schedule.
You can share retweets from Twitter, which are then scheduled for you. So, if you have 10 mins to scroll through your timeline on Twitter, you can retweet a bunch of great content you know your audience will love and have it sent out over a longer period of time, rather than a flurry of retweets all at once.
You can even schedule straight to Instagram these days. Straight. To. Instagram. We all love Insta's mobile first vibe but sometimes you can improve on perfection, and scheduling directly to Instagram is the cherry on the top of that very delicious-looking Sundae in my book.
And this is just the beginning! As part of my role as Buffer Ambassador I'll be looking at Buffer in more detail and sharing some of my top tips and tricks to get the best from your social using Buffer. Stay tuned!
Being a Buffer Ambassador
I'll admit that recently my Buffer community credentials have been looking a little cobwebbed. I like tweets from the Buffer crew, but I missed the last ever #bufferchat and I've not checked in with the Slack community for a long time.
So it was wonderful to be contacted out of the blue by Arielle and invited to be a Buffer Ambassador as part of their beta for this new programme.
To me, the ambassador programme is another great step for Buffer, giving something to their wonderful community that they have grown with care and attention throughout their journey.
I'm so pleased to be on board. Thank you for the invite y'all! Check back here soon for more fab Buffer content.