Free From Screens is my side project and my way of spreading a little creativity for anyone who needs a little time away from their screens.
Sitting working in a coffee shop? Why not download my Coffee Shop Doodle Sheet and take a break from your laptop to design your own latte art. Just scroll down this page to sign up for the free download.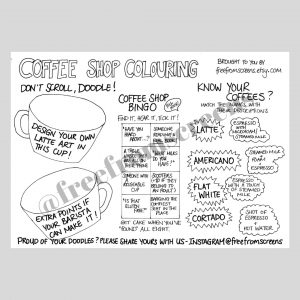 My colouring, doodle and activity sheets are a great way to switch off from your screens. Just download, print, grab some pens or pencils and take some time, alone or with friends, to create.
I sell my pages and mini books through my Etsy shop, which you can find here. I've also created a page for one of my favourite podcasts, Letters from a Hopeful Creative, so you can listen and capture your thoughts at the same time. You can find the free download for the podcast on my site here.
Are you a big fan of coworking? Why not share this lovely doodle sheet, especially for coworkers, at your next meet up or the next time you're at your favourite coworking space. Scroll down the page to download the sheet for FREE as a sample.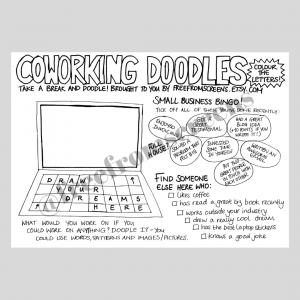 Ever wanted to write your own story? Now you can! With this great adventure mini book the next tale being told is entirely up to you. It comes with the instructions you need to fold and with one cut, make your own little mini book ready to create and share your story.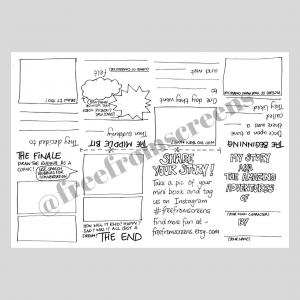 Want to try the pages I've shown you here for FREE? Well, this is the important bit! Fill out this form and I'll send you the links to download them right now.
[The data bit: I'll use your email address to send you the free downloads and then check in with you in a week's time and see if you liked them. Then I'll invite you to join my mailing list. If you don't join my mailing list then you won't hear from me again, and I don't share your data with anyone else. Thanks 🙂 ]